Freediving Speciality Courses
Breathing and breath holds transformed
Breathing and breath hold techniques can be used in life-threatening situations to prevent blackouts or drownings, but they can also be used to help control stress or even as therapy for certain conditions.
Pure Apnea currently offers the unique speciality course titled Surf Apnea. This course provides training for sudden breath holds experienced by water users after a wipeout or when caught inside a set of waves.
Why Surf Apnea?
Who is the Surf Apnea course for?
Where can you do this course?
Why Surf Apnea?
Freedivers hold their breath voluntarily. They are mentally and physically prepared for it and have had training to do it. Participants of other water activities sometimes find themselves in situations where they are submerged and are forced to hold their breath. They are not prepared for this situation, do not choose to do it and have had no training for it. This can have life threatening consequences or can mentally scar a person resulting in fear of participating in that water activity in future. The Surf Apnea course is the solution! This training will prepare any water user for sudden, involuntary breath holds which will reduce anxiety and fear of these situations.
Who is the Surf Apnea course for?
Where can you do this course?
Freediving Speciality Courses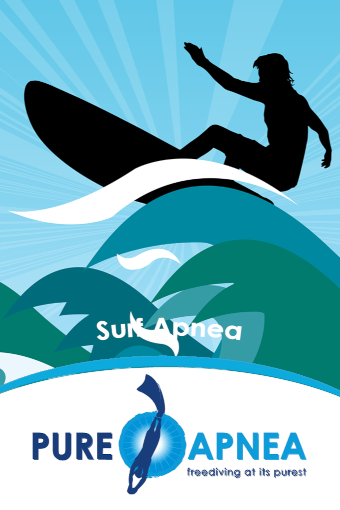 Surf Apnea
This is a breath-hold course specifically designed for surfers and water users who encounter big surf conditions and are forced to hold their breath. This course focuses on breathing and breath-hold techniques, physiology and safety all of which are tailored to surf conditions.
Search our list of Pure Apnea freediving instructors and find an instructor near you or in a location to which you intend to travel.
Complete a freediving course with a true professional and enhance your knowledge with supplemental online training.
Validate your new freediving skills and enhance your credibility as a safe and competent freediver with an internationally-recognised freediving certificate.